Make a No Budget Movie: Chapter Twelve
I was eager to get to the climactic battle scene. I'd chosen the location almost a year before, a rocky section of coast near Sambro, a strip of exposed granite covered in piles of massive boulders. I'd storyboarded, in primitive fashion, the entire sequence, shot for shot. It was complicated and full of action, and I'd planned to shoot it all in one day. But as had happened so often whenever I'd arranged a shooting day, not everyone could make it.  It was a Friday in early October, and Rob had to work. Everyone else, including Jim, Mike, Colin, Jonathan, and Cliff, was available. So I had everyone except Noble, which was too bad, because Noble was central to the scene.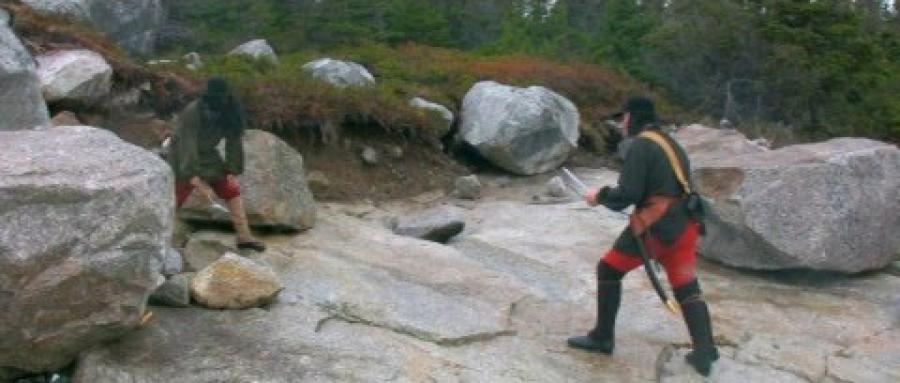 I wasn't put off. I would do what I could, which was a lot. Thanks to my storyboards it was easy to organize the shots and to check off those I could complete. The rest would wait for another day.
The weather had at last turned, and the day was cold and overcast, with a bit of rain, lots of wind, and rolling surf breaking against the rocks. To get to our shooting location we had to park at the end of a road, then walk along the shoreline for over two hundred yards, and finally cross a field of small rounded boulders like large stone cannon balls. This took a while, mostly because Jim, who was the oldest, found it hard going. Once in position, though, the shoot went smoothly. By now the cast had grown to know their characters better, and the acting had improved a great deal. Everyone looked tired, desperate, and cranky, which was exactly how it should have been.
The shoot took over two hours, and we were exhausted by the end of it. When we got back to my van, I treated everyone to juice packs and granola bars, the Rec Room Movies version of on-set "substantials." As we sat there and tried to get some of our strength back, we agreed to come back next Friday and complete the scene.
Six days passed, six days of dry, pleasant, warm sunny weather. I decided that I would only need Rob and Mike to stage the big fight scene between Renard and Noble. My storyboard called for about thirty moves and countermoves, which equaled about thirty shots. This was ambitious, but since I had no other scenes scheduled, I knew I could do it. My only concern was the fine weather, because it wouldn't match the previous week's shoot.
Friday came, and with it came cold and rain, wind and waves, just like before. My weather luck had held. Back on the rocks, rain speckled my camera lens as I filmed all of Noble's parts – featuring him speaking to Colin, who had done his bits last week – before the fight. By the time we got to the location for the actual fight scene, the rain was light but steady. As I checked off the shots on my storyboard, we all got wetter and wetter and colder and colder, while the sheets of paper in my hands became soaked and difficult to read. At last Rob suggested we cut the scene short. I didn't want to do this, but knew he was right, that there was no sense in pushing it. I ended up with about half of what I wanted, but the rain was coming down in torrents as we struggled back across the field of cannon ball boulders.
I was pretty sure, though, that of the shots I'd been able to get, all of them were golden.
I was up to three in the morning cutting the sequence that made up the climax of the movie. It was great. The lighting and weather conditions for the two Fridays were exactly the same. The fight sequences, when cut together, were good. There was only one problem: the final resolution between Le Renard and the Rangers was lame. It just didn't have enough impact. In fact, it was almost comical. Once again, my rushed script had failed.
I found myself drawing a new storyboard, essentially rewriting the scene. Now I had to reshoot key parts involving Renard and Tom Saxon.
When I told Mike and Jonathan on Monday, we again agreed we could meet Friday afternoon, the third Friday in a row.
It was another week of fine weather, but for the third time, Friday was foul, windy and rainy. With was the greatest weather luck I'd had for the entire shoot, three days, each a week apart, with the exact same conditions, and conditions that added a sense of drama and turmoil to the scene that I could never have achieved without a pile of expensive special effects.
Our third time on the rocks was very quick, which was nice, because it was cold and once again we got very wet. But the new sequence was better, and I even took the time to reshoot some of Jonathan's parts that had been marred by rain drops on my lens.
I edited the sequence that night. I was still missing three shots, clips of Acadians Rob had supposedly dispatched on his advance toward Renard. I managed to get these by filming myself on the Herring Cove rocks, which was a similar region of coastline to the Sambro location. I just went out alone one day, lugging my gear, set up my camera, framed the shot, put on my ridiculous costumes, and let the tape roll. These clips blended perfectly well. The ending to my movie, I knew, was solid.
I now had to ensure that I had a beginning to match it.